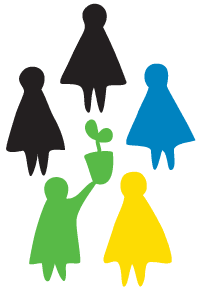 We met Bach when we were about to leave Milan in October last year. We were selling our no-need-anymore stuffs. She came to our place to take a tent in a morning. We talked a little while and agreed to arrange another time to talk longer. She then went on her one day trip to somewhere. We soon left Milan, into the mountain.
Several months later, we were told that she had got a place in Corso Porta Ticinese in Milan, an undoubted popular spot pretty near city center. It was a great step forward for Bach from running online business to having a real shop in such a place. We were quite happy when she asked us to be her consultants on interior design. Moreover, Mi, who studied industrial design in school and works in a famous Milanese styling company joined us.
Composed by Bach (interactive design), Bach's boyfriend Yuan (automobile design), Mi (product & styling design) and we two (architecture), a multi-disciplined team was formed.
Cooperation
In considering the complexity of the project and their budget, Bach and Yuan decided to DIY as much as they can (They also DIYed their home's interior!). Because of this, they kept telling us that they were overwhelmed by construction-related issues and bureaucratic issues and have no attention left for general concept and spatial strategy. What we did is mainly one thing: drawing their attention back to a general level thus help them to hold their dream without being knocked out by realistic issues. Mi has her knowledge on material and atmosphere, so she worked mainly on detail level and helped to adjust some feasibility issue during the dreaming process.
Interestingly, as we live in different places, most of the meetings and communications were made on-line.

Bach's dream
First of all, we got the word 池塘 (chí táng) from Bach, a Chinese word meaning Pond in English. For understanding her expectation of the shop, we arranged a meeting with her to listen and ask questions like please use three words to describe your shop, what is your dream, so on and so forth.
For Bach, chí táng connotes a micro biosphere, including animal, vegetation, microorganism, sun, air, precipitation and so on, hosted by the place called Pond. The new shop would take a similar role like that. In her own words:
We are going to dig a pond in Corso Porta Ticinese 103, thanks to the good condition of Soil (district with right atmosphere), Sun (visibility), and Rainfall (great purchasing power). In bridging Vegetation (product) with Animal (customer), we set up a micro environment. At last, with little care from us, it is able to evolve in a self-sufficient way.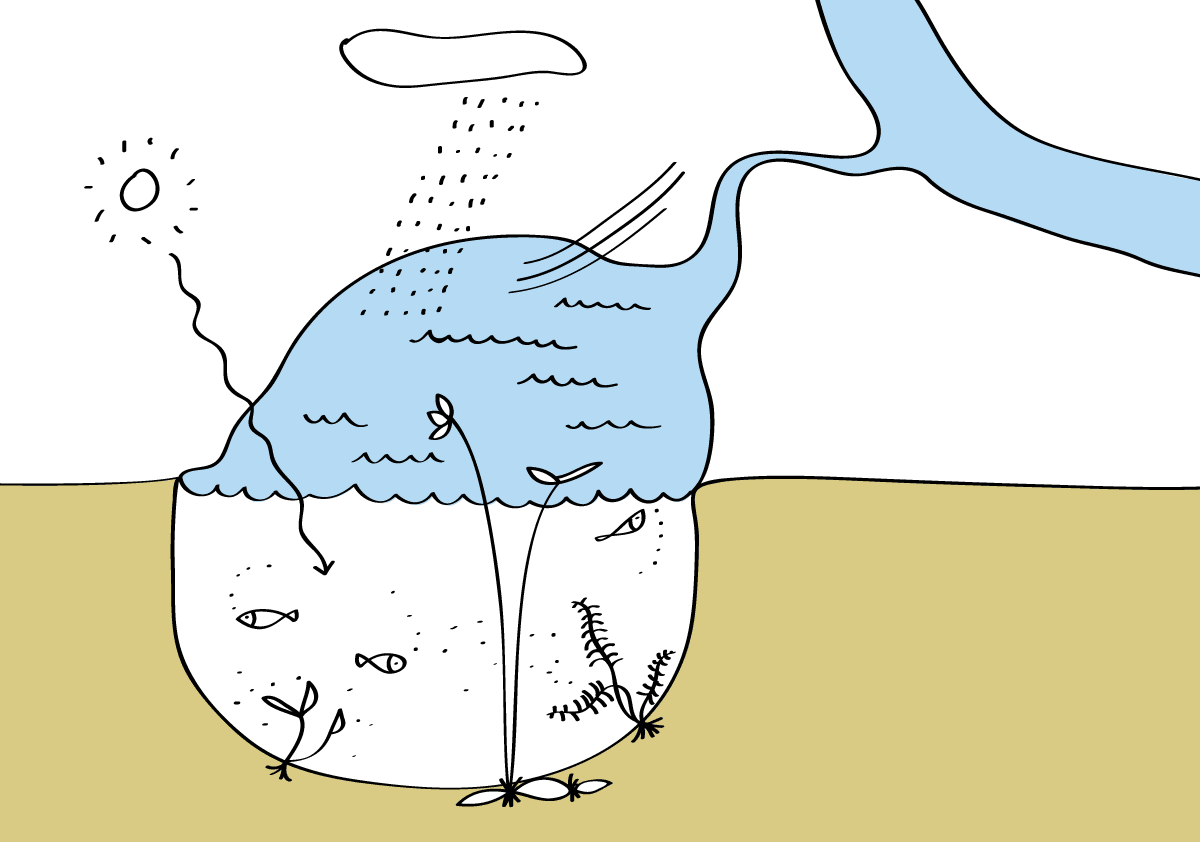 Prototyping
For a shop, there is nothing more important than how to standing out. Then people would come→look around→stay→stay longer→and finally buy.
In our case, Bach got a place in the most successful commercial street of Milan in the price of falling into the situation that her shop has to compete deadly with the surrounding hundreds of shops to stand out. If we say this is a challenge, then the other one can only be considered as trouble. Excluding office part, commercial area of the shop is divided into two parts by a small threshold. The front part is in good proportion with large windows facing street while the rear part is linear and almost invisible from street. The little tail worried Bach the most.
Locate Bach's dream
How Bach's dream can be realized in this specific shop properly? It is not easy, since during the previous discussions, Bach didn't really want to be special.
I want to run this shop in a very relaxing way, that I feel relaxing, the shop looks relaxing and customer feel relaxing in the shop. I believe it's something quite normal rather than special…
Then we couldn't find their identity. We got nothing to do but just keep talking with them this and that… But they have two people aren't they? Can we dig something out from Yuan? At the beginning we thought Bach and Yuan will run the shop together, but Yuan denied it and said he was just supporting in the starting period… and probably some trivia in the future. — Then we felt completely lost.
However, the talk continued to a point which, finally, we caught something. Bach said she loves plants and she wishes to have a lot of plants in the shop. We said haha it's not cheap, or they will die… Bach said:
No I don't think so. Yuan was born in a gardener family… We got many things growing happily at home.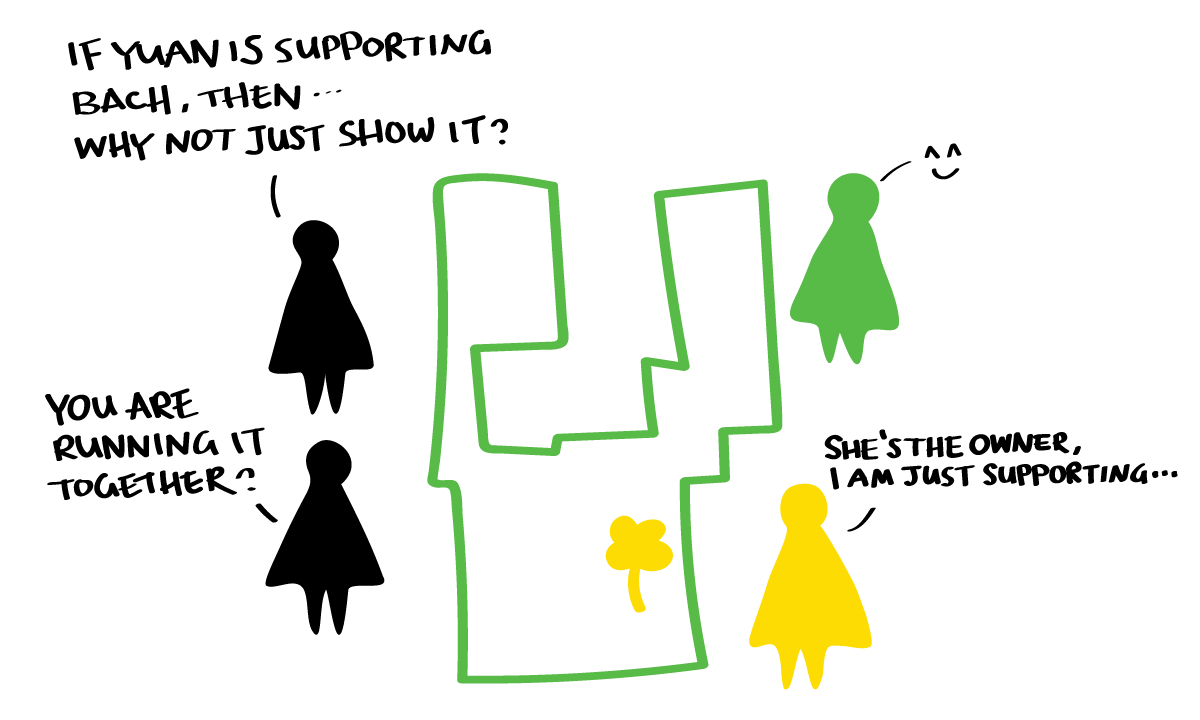 The slightly lifted platform serves as a podium for flowerpots. It gives a controlled ceremonial sense, not as strong as ancient roman temples even though they share the same strategy. It invites people to sit down with its good-to-sit height and greenery nearby, good news for those suffering from shopping with their partners.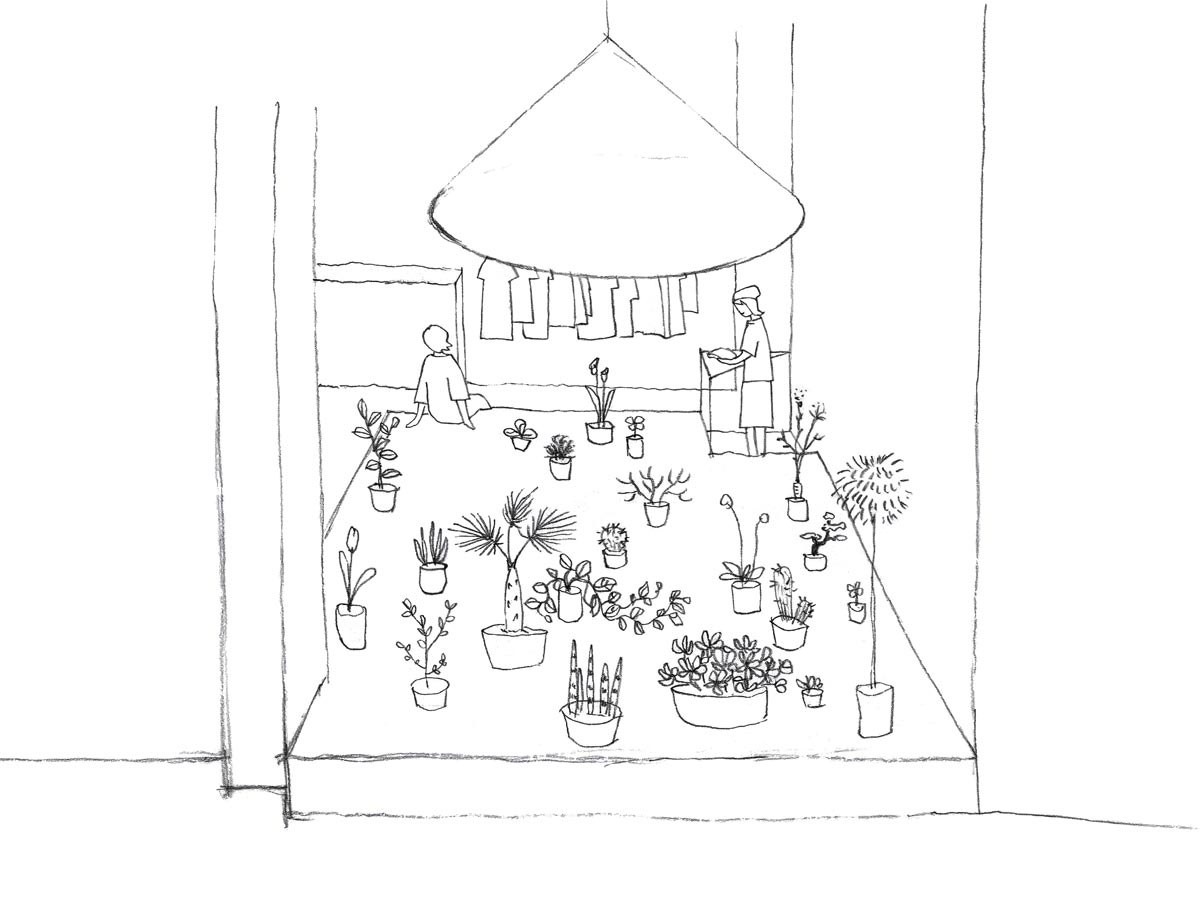 About the rear part…
Then we went to the rear part. We thought it should be an advantage rather than a disadvantage, in terms of it's mysterious nature that would attract customers, like a hidden energy generator.. And there's natural light coming from the courtyard behind their shop.
At this very moment, Mi, the calm and rational lady in the previous stages suddenly jumped up and said:
Use tiles!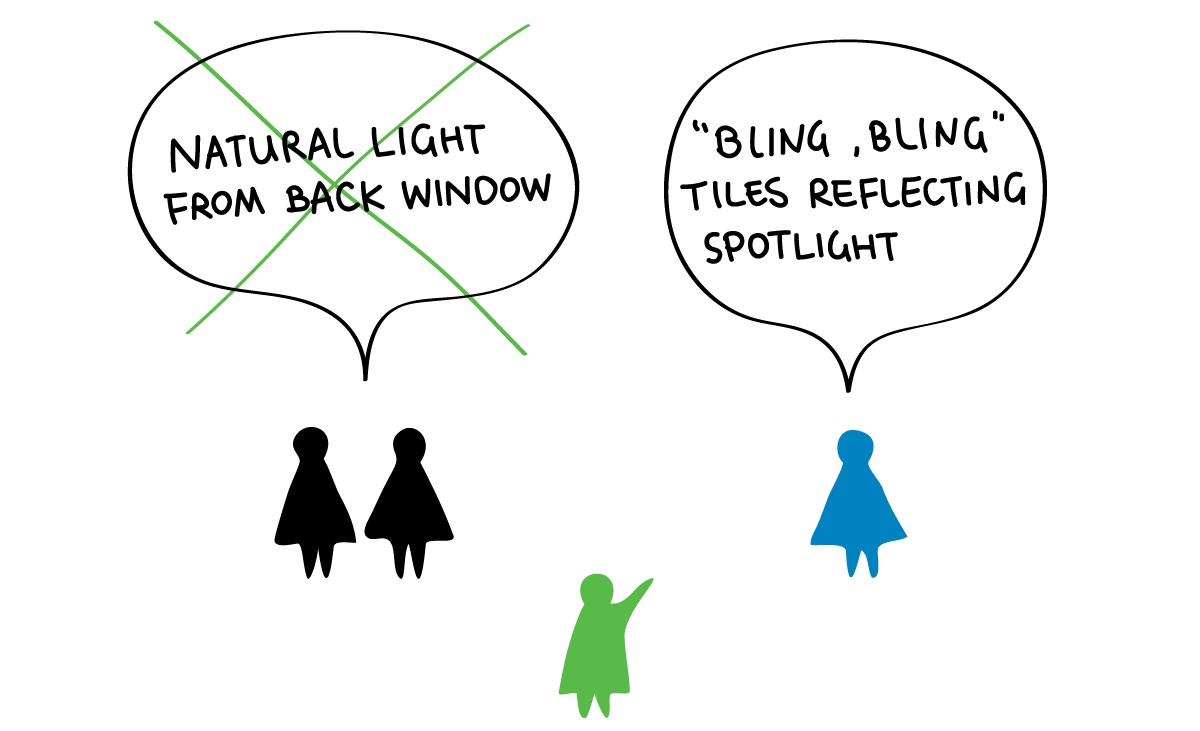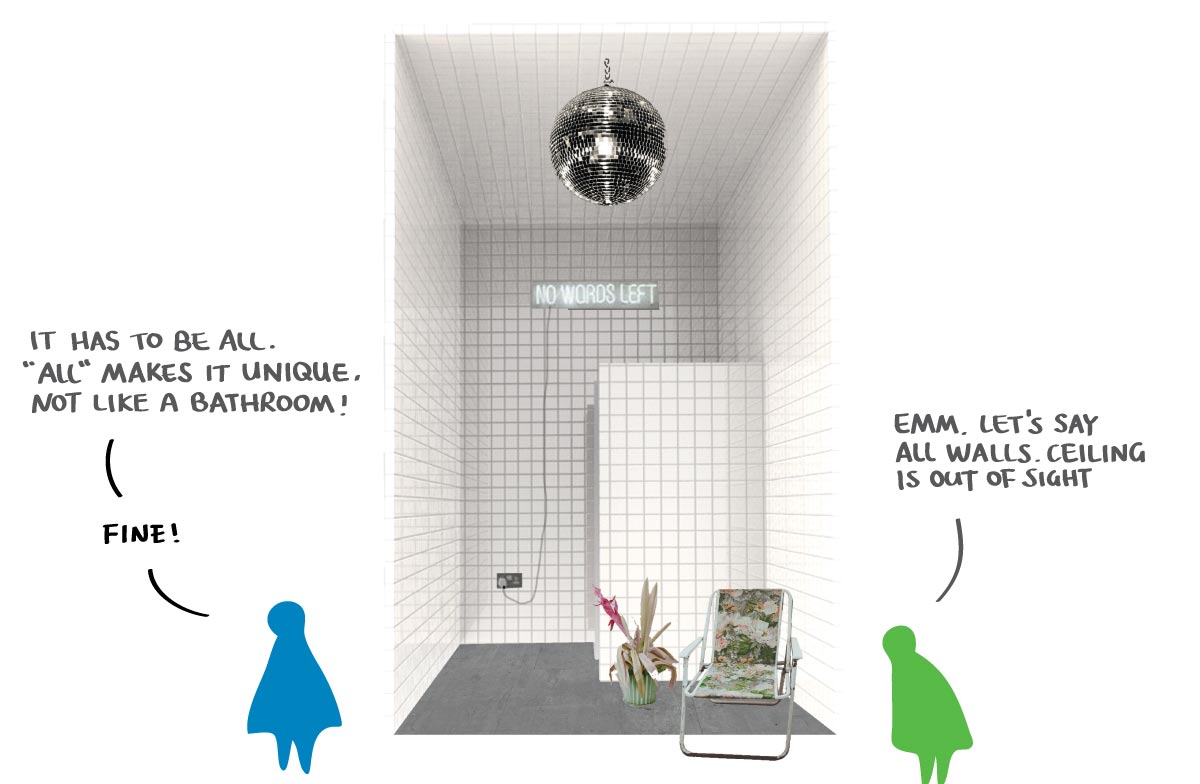 The tile fever continues, and finally goes out from the little room:
As Yoko and Tao said, the rear room is like having a lot of energy, and since there's a threshold, some energy would naturally leak out, right? So let's bring some tiles out! — Mi
Then the plant podium, if you still remember, became a tiled one.
Finally
With their enthusiasm and great effort, Bach and Yuan realized the shop's construction almost by themselves, with only some helps from Mr. professional electricity worker, Mr. tear-down-the-original-roof and someone who helped to assemble the podium.
Moreover, Bach and Yuan optimized the podium as they would like it to be flexible to suit different cases, and as they are made in tile, to split them became a very smart action to make it "leak out" from the rear room naturally. Well done!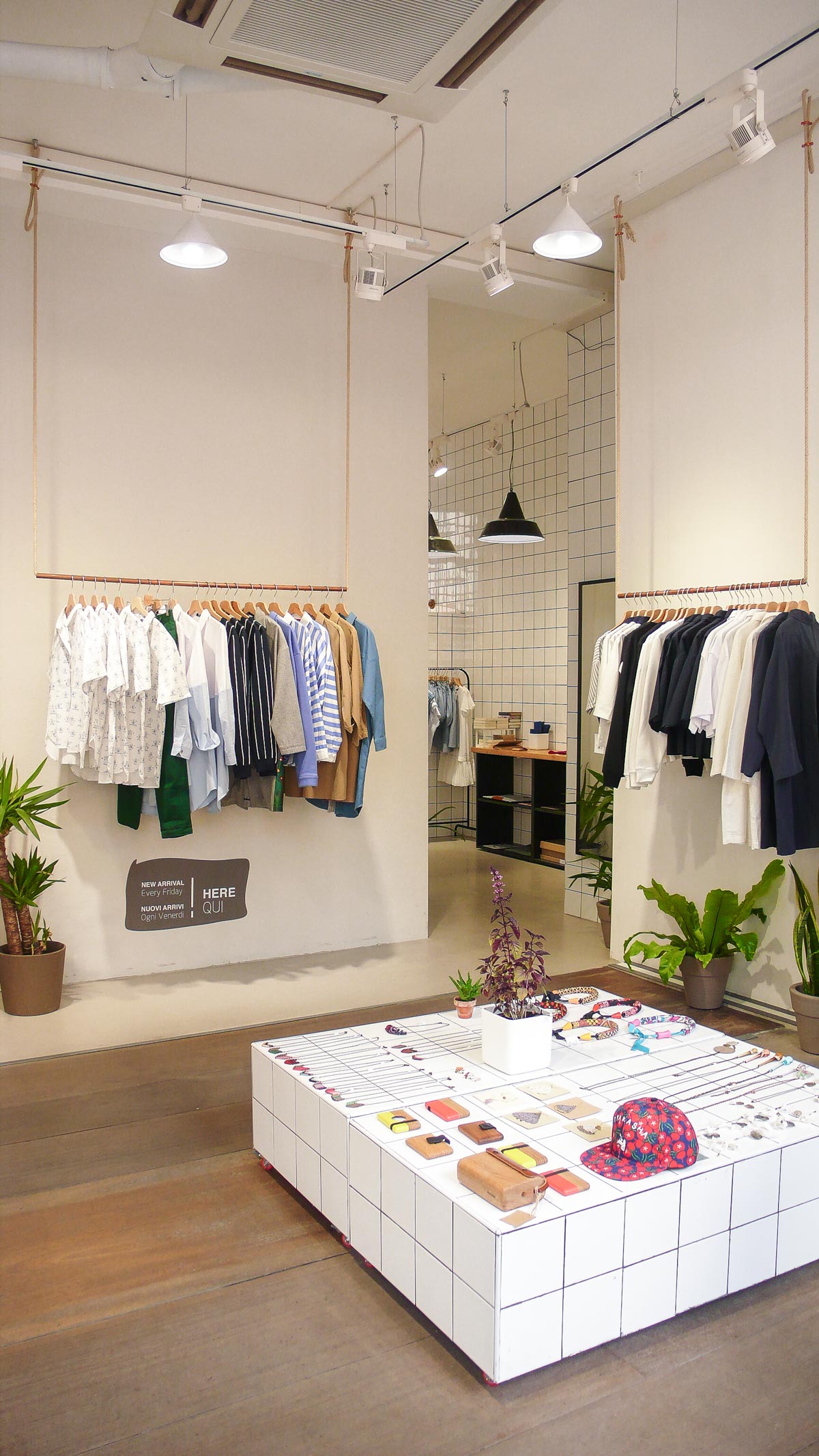 Design is a cooperative process, no one involved inside is less important. Carefully asking and listening will always make better means to meet the ends. We hope this work could awake your faith in your capability of creating something, as it was done by young graduates with very little experience and nearly the whole construction was completed by people has no relationship with architecture or interior.
Lastly, please go to like Cétang Shop's facebook page (They created a smart name that sounds like 池塘/chí táng/pond we mentioned before : ) And if you are in Milan, surely don't miss it!
Design team: Yoko, Tao, Bach, Yuan, Mi
Construction team: Bach, Yuan
Site management: Bach, Yuan
Interior decoration: Mi Dong, Bach, Yuan
Electricity and Technical solution: Yuan
Plants maintenance: Yuan