On October 2015, yoko saw a news on Facebook, shared by a never-really-talked friend. It was a call for under-35 designers participating the 21st triennial of Milan.
We used to go Trienniale di Milano very often when we studied in Milan. yoko took a look on the website, finding Richard Sennett is one of the juries. She felt very excited.
Yoko: Shall we apply for Triennale? Sennett is one of the jury!

Tao: Why not!
After getting the topic 'Design after Design', which is about how swiftly evolved technology shapes design field, we went downstairs to walk our cat, hoping some ideas come out.
Proposal
By the time, we had never seen by our own eyes the internet revolution in China, but we could feel the heat through telephone line by hearing how our friends and relatives' life being changed.
T: Why not talk something about online shopping? Open a shop online, designers, farmers, housewives could sell their product, independent brand clothes, bio potato, or home-made chilly sauce, far more easier than before. Customers also get far more options than before. I see clearly how internet changes creative activity through establishing a new bridge linking supply and demand.

Y: Indeed. Online shopping is a part of everybody's everyday life now.

T: Your mom, already 60 something, veteran of Taobao and WeChat, buys iPhone cover, snack, even flour, sugar and butter online. Several clicks, less than 24-hour waiting, stuffs in front door. I feel this is something beyond the imagination of Italian people.

Y: That's why they always say 'europe is out'!

T: Italy seems to be not so fond of online shopping. Look Dario, we asked him to buy better cat food online, but he still wants to buy from the pet shop nearby, saying it is important to keep local neighbourhood relationship.

Y: Ok, let's work with Taobao!

T: Hmmm, but we've never used it.

Y: You will. you are about to go back, aren't you?
Based on what we both agreed, discarding twenty something ideas, we sent the proposal at late evening that day. The proposal was called Sugar from a C2C world. The setting is rather simple, two tables—one huge, with 500 different types of sugar bought from Taobao individual sellers; one small, with all types of sugar that one can buy from Esselunga—the biggest supermarket chain in Milan.
But wait, what is C2C world? Probably not known by all. We ourselves encountered the concept pretty late, comparing to people doing internet business in China. Working on huoban project, C2C was not the only new word we learned but also aching point, incubate, content, B2C, O2O etc.. Anyway, C2C is the abbreviation of 'Consumer to Consumer' or 'Citizen to Citizen'. Individual buys and sells to individual through internet—a relatively new mode of trading.
Waiting
No updates for next three months, the whole thing was completely left behind.
Then we received the shyest notice of entry we had ever seen. Instead of saying 'Congrats, guys, you are in!', it said, 'Please go to our website to check the name list'. After inhaling a terrible amount of smog in China, tao deleted the email immediately with his smogy brain, thinking that was a spam.
The day we realised what happened was merely 5 days before the deadline of delivering executive proposal. A mysterious call in Tao's brain asked him to read again that email in trash bin. Having been to many exhibitions but never participated one, we didn't know what to do next. Who is supposed to pay the cost? What would be the space of exhibiting? Is it realistic for tao to take 500 bags of sugar from China to Milan? 500 bags, say one bag 500 grams, in total is 250 kg. Well, impossible. Then who can take them here? Logistics company? Time enough?
We dumped all the questions to Triennale di Milano, writing at last:
Time is in short, please reply us asap.
One day passed, only 4 days left, we couldn't wait anymore. tao called Triennale di Milano from Changsha. It was Ms.R answering the phone. She promised she would pass the questions to curators. When tao expressed his worry about time, she said:
Time won't be a problem, days are just days.
Another one day passed, Ms.R's email finally came, although a group mail:
Dear all, please send us four pictures of your executive proposal. We will put them in the catalogue.
None of our questions was replied. So we just sent them the old ones. However, along with the declining confidence, we silently changed the pack number from 500 to 200.
On 23rd Feb, another Ms.R's email appeared:
…There will be 12 plinths (with plexi cover if necessary) – rectangular, 140×50 cm, with 45cm or 90cm heights – dedicated to the prototypes/products resulting from the Call.

…If there were any special requests, please contact Ms.S, but basically we will not make different versions for each under35 project.

…Finally, the NEW CRAFT exhibition provides a program of events, seminars, workshops: that would contain the selected under35 proposals for workshops and events.

…You will receive shortly also a provisional layout showing the location of each project. The deadline for the delivery of the objects is March 25, 2016.
What the heck is New Craft!? Wasn't it called Design after Design? Forget (damn) it, we opened the attachment. Striking news: Two works sharing one table. Half table is only 50cm by 70cm, less than half square meter. 200 bags of sugar we thought to display, how? Piling up one on another till the ceiling, or select one particle from each bag?
Game over.
We contacted Ms.S immediately, emphasising the number of sugar types are very important to us but the table is far too small. Ms.S was confident, replying:
Don't worry, we will make it work. We like your work, but cannot guarantee a whole table.
Another several days passed, Ms.G sent us an email:
If you are still interested in participating, please send maximum 50 to 60 bags of sugar to us, before 25th March.
What does still interested mean? tao sent her back a yes but our questions were still hanging there. Ms.G advised us to ask Ms.S.
Ok then.
At the moment tao's flight leaving Shanghai, we relieved. He got no a single bag of sugar with him, but kilos of dry daikon and chilly from family with family love.
The second day of arriving, we headed to POLIMI for tutoring an architecture workshop. The sugar thing was put aside.
Two weeks later, workshop finished, we returned home.
Today is 8th March, 17 days to the deadline, we got nothing here, let's contact our sugar team again.
This time, Ms.R sounded more serious than before, because she started to ask us questions.
We really want to show your work in the exhibition, but we don't know how to do it, neither do we know how to import sugar from China or deal with customs. Do you know?
Don't worry,
(finally our turn to say this) we replied,
We could express the same thing in another way, but please answer our questions firstly.
Months old questions were finally answered by Ms.S (answers in the bracket):
Will we only have half table to display? 50×70? (40×70)
What kind of table it will be? (no answer)
How will you put two works together on one table? (Yes)
On such a little tabletop, five bags of sugar can hardly be displayed well, let alone five hundreds. The original idea proved to be impossible.
Proposing again
Two weeks left, we still got nothing except the topic.
Keep calm and get a new idea within two hours.
We said to ourselves.
We wanted to show people the dramatically widened scope of trading by displaying hundreds types of sugar. The number has to be massive, if not, the communication fails. Fortunately, C2C features not only one aspect. Soon, we got an even more excited one—the depth of trading. In a C2C world, interaction between customer and seller is very frequent and individualised. One can ask questions, seek updates, bargain, inquire special needs, even just chat; sellers can spread news, like postponed delivery or new arrivals or sales. —Back in the old times, people traded in the same way, didn't they?
Neo-bespoking, we may call.
Sugar didn't change while the narrative was changed from 'many choices' to 'neo-bespoking'. It decreased the number of sugar from hundreds to one. Let's show one neo-bespoking sugar from a Taobao seller and one supermarket sugar.
The sugar we wanted to buy from Taobao is a sort of raw sugar made in traditional way: productions take place in limited areas, some of them could be remote. Using physical means only, juices are extracted from sugarcane, then poured into big tank or small moulds, being boiled for several hours until reaching the right consistency. When sugar cools down, it can be removed from mould. Cut if needed.
We knew that we could ask any seller to cut sugar brick into smaller pieces or give us some gifts, but we need something more legible to our potential visitors. A T-shaped sugar, same as the logo of Triennale could work well. Opening the built-in instant messenger of Taobao the first time in our life, we sent our inquiry to eight Taobao sellers.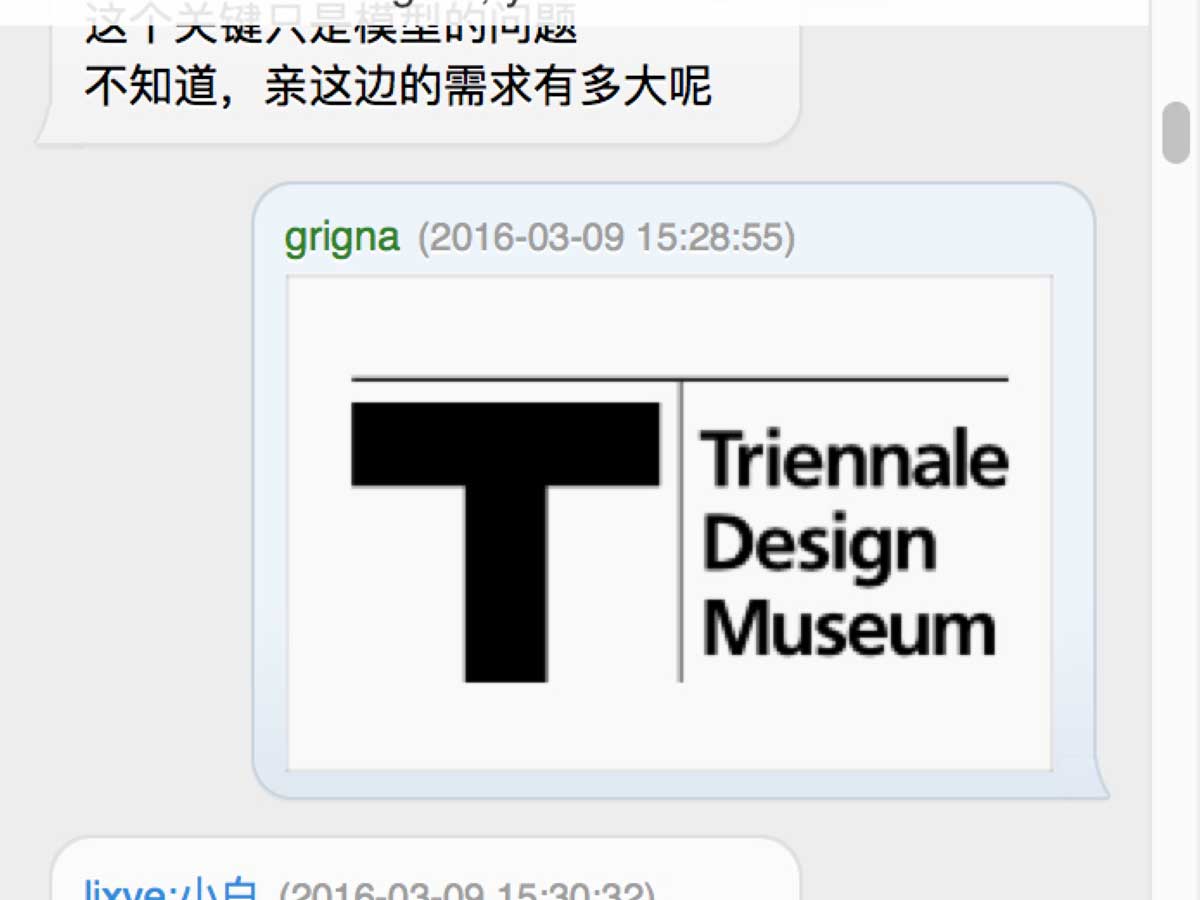 Three days past, nothing. Anxiety was encroaching every corner of this house. When we were pouring water into coffee, a sound came from the deep universe:
Ding!
The instant messenger!
Dear,
It was a very weird Chinese expression,
I am here, dear, please speak.
His name was Xiaobai. He turned down our T-shaped sugar idea at the first place due to our tight schedule. However, it did not prevent us from realising how supportive and innovative he is. During the whole discussion, he was patiently hearing our thoughts, explaining technics and risks, moreover, he kept proposing new solutions.
Xiaobai made our proposal solid, though he's business has nothing to do with design or art.
At the end, we tried to ask Xiaobai for a letter-length piece on how does C2C change local people's life, noted that he could use his internet nickname if he needs some privacy.
Hmm, well, I will write the letter and I also have a little request…
He replied,
Can you put a photo of me and my sugar into the exhibition?
Of course of course!
We almost shouted out,
Send us anything that you want to exhibit. we will try our best to display them.
Proposal finalised on 9th March, sent to Triennale di Milano on 12th. On 15th, Xiaobai sent out the parcel, from Dayao county of Chuxiong Yi Autonomous Prefecture in Yunnan province, China to Pasturo of Valsassina in Lombardia, Italy. What a journey!
Xiaobai warned us the express delivery of EMS from China Post (the only one they have) takes more time than DHL or UPS, 7 days estimated. Sounds good, we thought, still 10 days available, it will arrive on time.
10 days later, it arrived Milan. The last record said customs received it, then no more progress, neither phone call or email from customs.
Game over.
We asked Triennale what to do. They must know something. Ms.R asked us:
What company did you use, DHL or UPS?
We said EMS. End of the communication.
Knowing nothing, knowing nobody knows something, we decided to try our luck on Poste Italie. tao found Poste Italiane encourages people to use their twitter helpdesk, so he wrote on his twitter page:
@poste italie our parcel with number xxxx was detained by Milan customs, brown sugar from China inside, what should we do?
Two seconds later, Poste Italie replied:
Please delete it asap, not good to discuss private issue like this, send us a PM.
The first call to Milan customs got us a form to fill. We filled and sent it as quickly as we can. Then we called again to ask:
Have you received that? Is everything ok?
Next day, we called again:
Is everything ok? Our parcel on the way?
Next day we called again:
How soon do you think we can get it?
Next day we called again…
All these efforts made our doorbell shout at 10:49am, 31st March. We got it! Look at that heavy, tired, brave parcel, it was from a C2C world!
Inside, we found wooden mould with Xiaobai's hand writing 'For Triennale', a photo, a letter, and far more sugar than we had thought. We asked Xiaobai why, he said the extras were for increasing the probability of having a perfect-shape one on arrival and the cost was all on him.
Being moved, yet no time to be moved, we have to move quickly now. We informed Ms.S immediately:
Parcel arrived! Is it okay that we set up tomorrow morning before press visit?
Please come now!
Exhibiting
tao arrived at Fabbrica del Vapore around 6pm. We knew the place long time ago. If we stayed in Milan for one night or two, we were very likely to bother our cat friend Dario. From his balcony, we could see the place. We never walked in or joined any event there.
Not surprisingly, tao missed the entrance. Walking while sending yoko a message saying it was closed, tao nearly clashed himself on a tiny little gate, opening.
The exhibition hall looked like a themed night club, extraordinarily high ceiling, black colour everywhere, lights shimmering, people talking in videos.
Wow, they've done a good job.
tao sighed.
There seemed to have a plinth with half remaining empty. The half one was ours. tao approached it, noticing our block title already in place, written:
These 500 bags of sugar coming from China intend to show you…
Wait, 500 bags of sugar!?
Feeling adrenaline rushing high, tao tried to search for Ms.S who had gone home half an hour ago. Back to the plinth, tao turned the block title upside-down.
500 bags on half table… wow.
tao was nagging in whispers while putting things on table.
In the early morning next day, tao met Ms.S in person.
S: How are you? The block title is wrong, what should we do?

T: I am fine.

S: Don't worry. You are not the only one. We will deal with it shortly, all together.

T: …
Being experienced all bunch of things, we deeply knew that waiting only brings longer waiting. Luckily, China town was just 10 minutes walking time from the exhibition. The whole morning, tao was running between printing shop and exhibition hall. Before noon, we got our description right and even improved the set by adding a translation of Xiaobai's letter and two stickers explaining what is what.
Sweat triggers luck.
While tao was running in and out, a person with noticeable appearance (a bit like Marilyn Manson) was walking around. She was Ms.St, one of the curator.
tao, how are you?
Her voice was deep and husky.
Very good. Shall we talk about the setup? Does it block the neighbour somehow?
She pointed to the ragged parcel box with a thin but powerful finger:
This, are you sure you want to show?
Yes.
tao replied with determination. Then Ms.St carefully lifted our neighbour up, put to adjacent table.
She smiled:
How is it now?
Yes, suddenly, we got a full table.
Near us there was a popular stuff, a huge shinning 3D printing machine specialised in making pasta. When visitors standing around and watching the process, they had their back on us, blocking the passage. It urged tao to change the direction of display.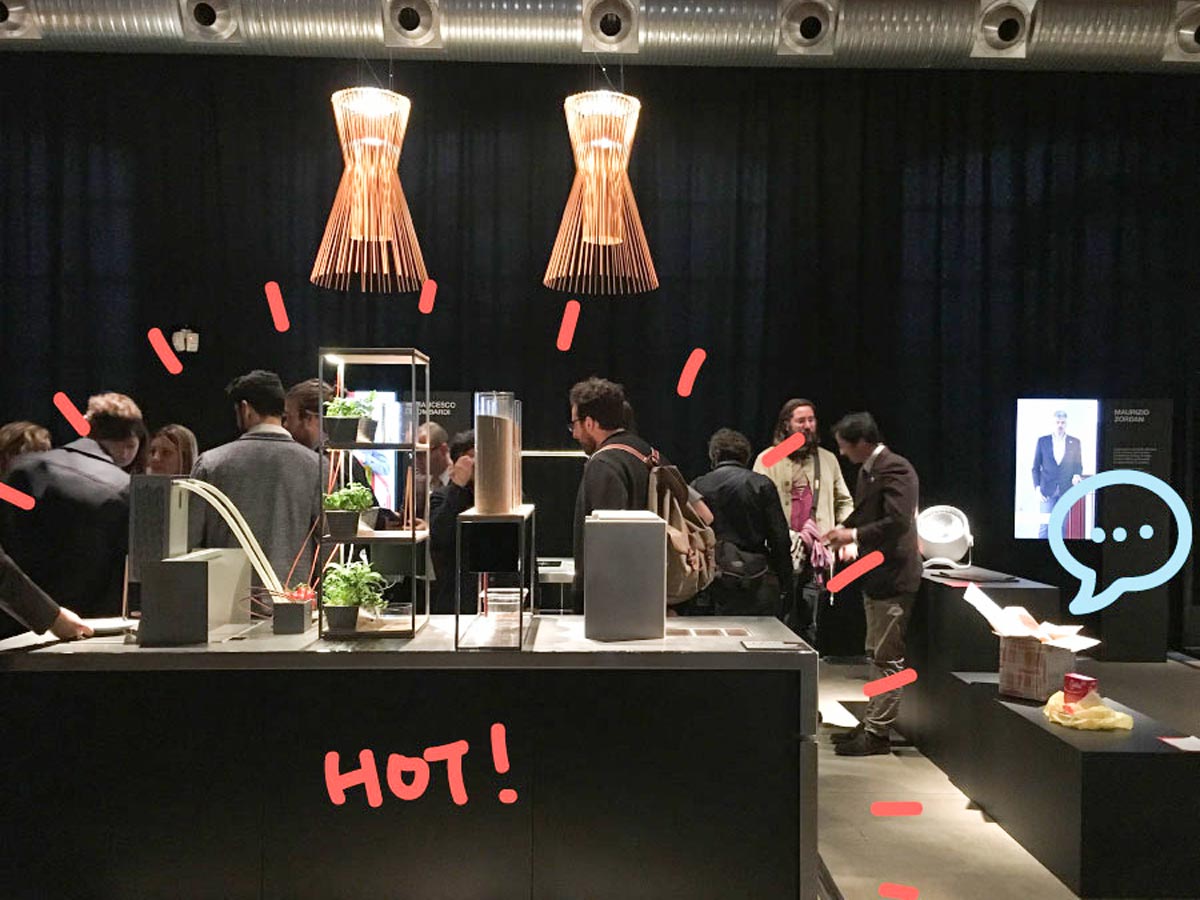 So, are you going to sell this kind of sugar?
A well dressed fat lady popped out. Feeling lost for three seconds, tao realised our sugar was probably the most incomprehensible thing in this big hall, comparing to the other hi-tech stuffs mostly related with 3D printing.
The second time Ms.St walked by, tao told her:
I don't know if visitors may get lost in front of our work. All the other exhibits are hi-tech and eye-catching.
It's absolutely a good thing, no?
She smiled again.
24 hours after tao's arrival, yoko came over too. She did some invisible adjustments. By then, things seemingly settled down.
We then had our dinner in China town. It was not so easy for yoko to enjoy her favourite noodle dish as much as she usually does. She kept taking about the block title, things like the correct one being blown away by wind and some Italian visitors not understanding well English. At the moment, only one thing seemed to be sure—nobody would make it better if we ourselves don't do.
We should fix it today. Look, let's ask Kim to translate, then use Dario's printer to print. I want to stick it firmly on the wrong one.
At last, we DIYed our special paper-white block title.
Two month after, a friend went to the exhibition. We asked her:
Is our block title white or red?
White!
This is the story of our first time experience of being an exhibitor. We enjoyed it.
Note: All the words people said in this article may not be 100% accurate. But shouldn't be less than 92%.