Our last home, Via Conte Rosso 36, was next to one of the main exhibition area of Salone di Mobile (Milan Design Week). The official guide map suggested people a walking path from metro/train station to the exhibition area. It passed exactly under our balcony.
We never had the chance of knowing that by looking at the map.
That was a normal April day of 2012. After breakfast, we started to work as usual. We looked out onto the street occasionally and unintentionally as we normally did, we noticed that people walking down there were strangely grouped. It was still mid morning, not likely they were heading to lunch places at all.
As time approaching to midday, more and more people appeared. Besides the unusual flow, we also recognized that most of them tended to stop at the junction, looking at a piece of paper and wondering around. They looked like they don't know where to go.
"Something is going on!"
Having a quick search on internet, we got to know the very fact mentioned at the beginning. It was a real surprise and we were totally excited by it. You see, hundreds and thousands visitors would pass by exactly in front of our balcony door, but not only that—they would slow down when they approach here, hesitate at the junction, look around purposely. We had to do something. We would never let these amount of attentive audience walk away without a treat. 😀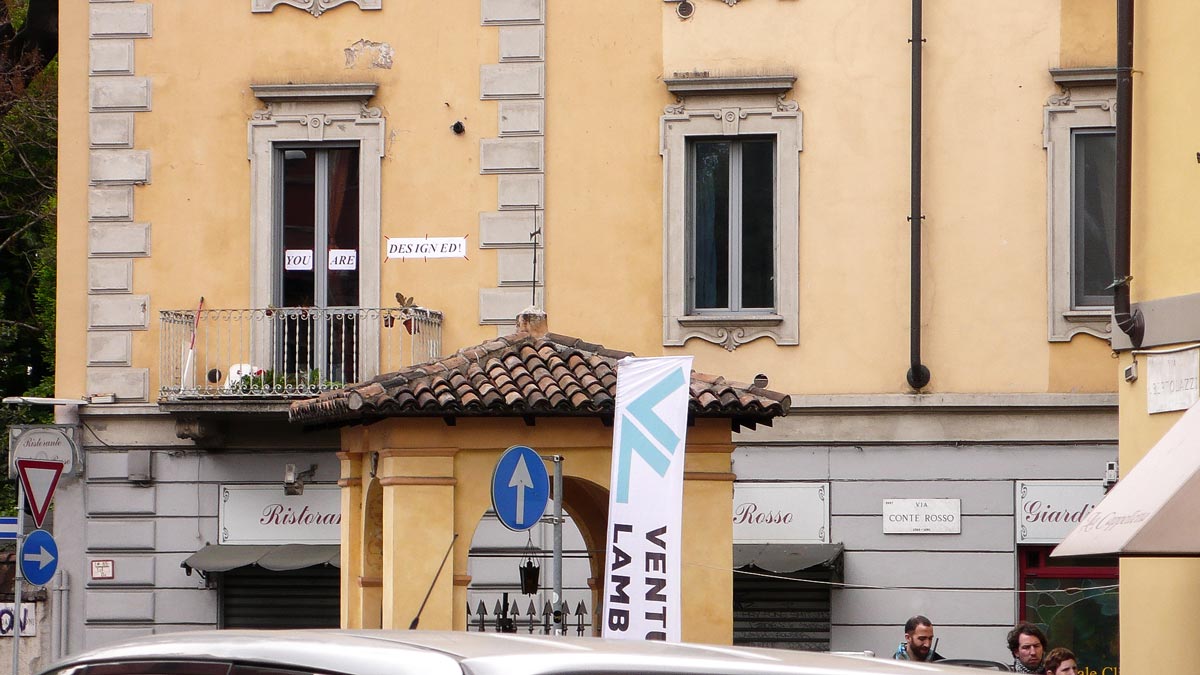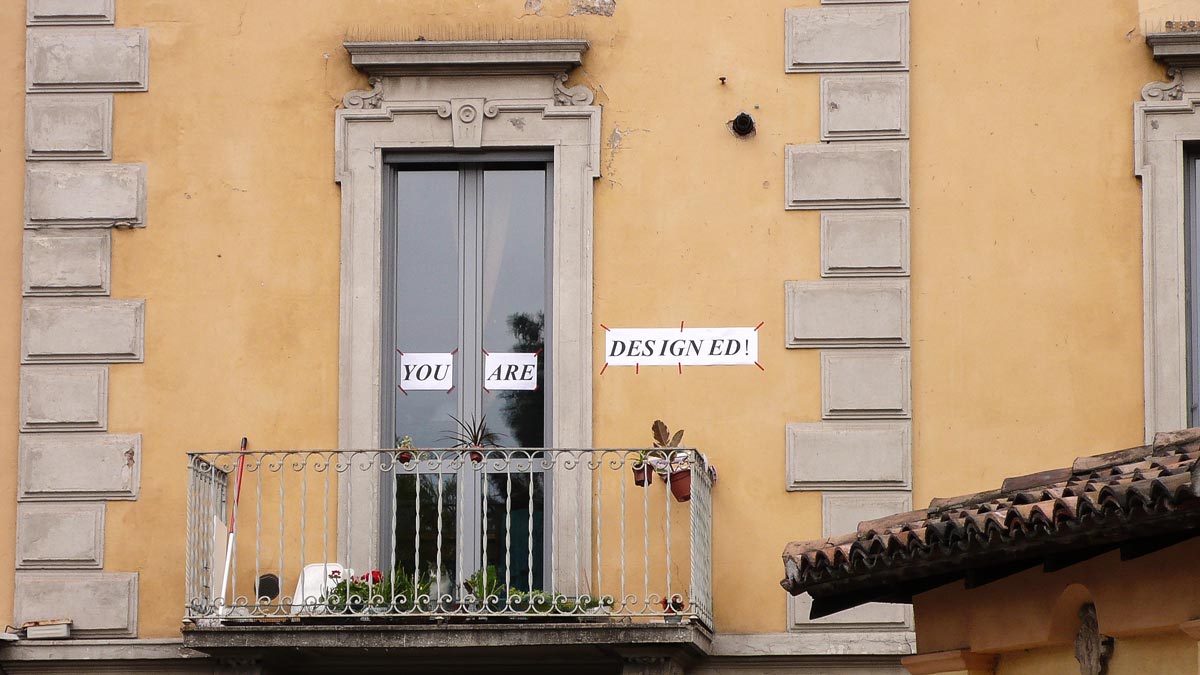 At that time, we were worried that visitors might leave their self-awareness at home and look forward to be bombarded by design stuffs. We wished people could see things in a critical way, keeping in mind basic thoughts like who am I, how do I live and so on. We could certainly talk hours about this but in this case the message had to be short. The best one we found was 'you are designed!'
People passing by, we worked out a banner as large as possible and pasted it immediately on the wall next to our balcony. Not long after, people started to notice it. Some checked their guide map carefully to see who is the designer of 'you are designed!'. Some raised up their cameras and shot it.
Meanwhile, we were observing them from inside. Discoveries include: 1) 90% of picture takers were female; 2) 90% of picture takers were single or in group of not exceeding 3 persons; 3) people from more-than-3 group ignore it completely.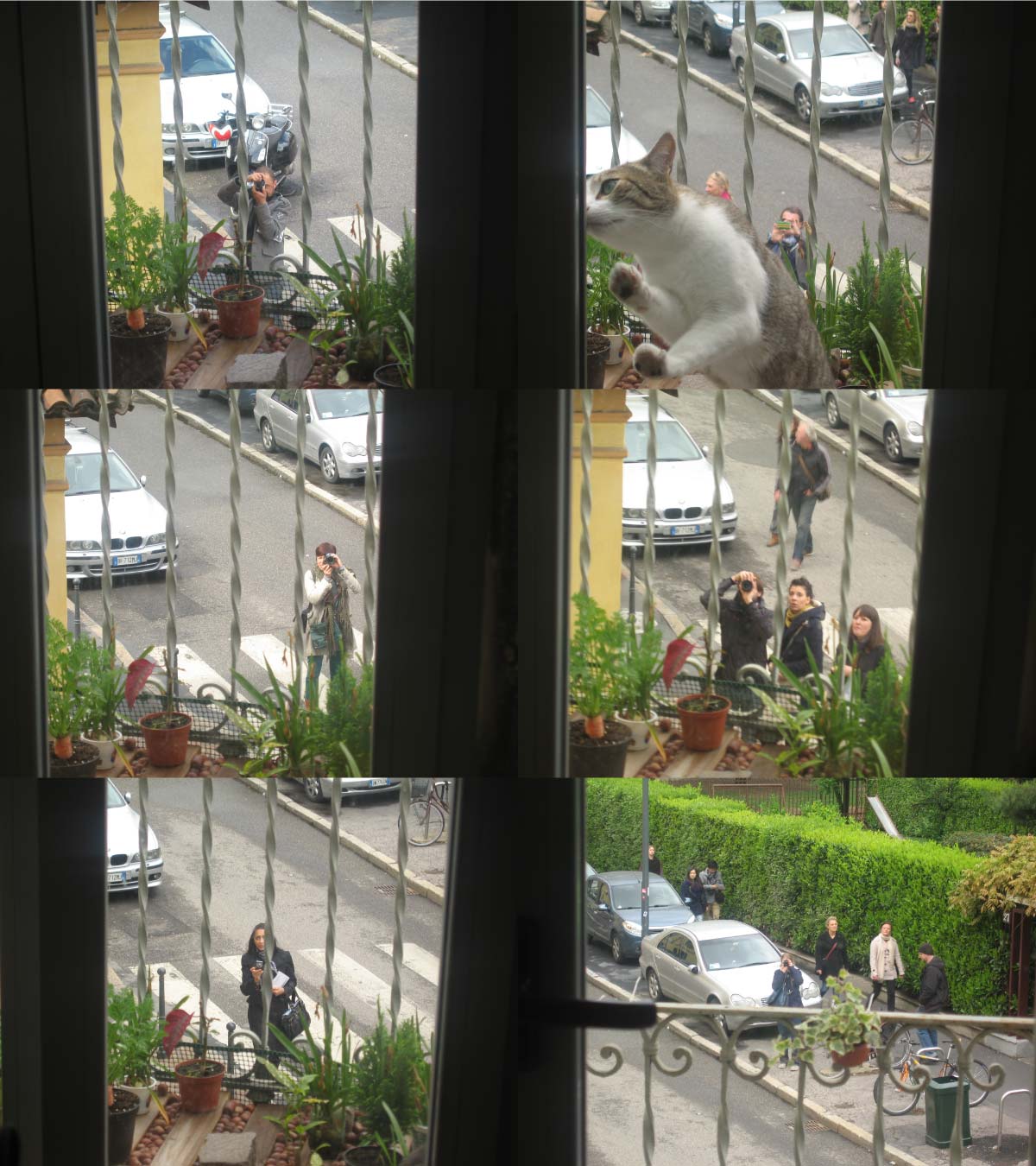 We enjoyed doing it. Thanks to the lucky place we occupied, by only adding a banner with three words, we established a dialogue with a large number of people.